Flavoured ciders – how are they made?
» LUE SUOMEKSI
» READ IN ENGLISH
Maustetut siiderit ovat olleet alusta asti Lepolalle se juttu. Kehitämme tuotteita ympäröivän luonnon raaka-aineista ja rakastamme testailla uusia makuja. Maustettujen siidereiden maailma on lähes rajaton! Makuyhdistelmiä voi kokeilla hedelmistä marjoihin, vihanneksista yrtteihin ja mausteisiin. Uusien makujen testaus ja ideointi todella hauskaa ja innostavaa!
Voisi kuvitella, että maustettuja siidereitä tehdään, jos alkuperäinen siiderierä on jotenkin huono tai mennyt pieleen. Maustamalla voisi peittää tuotteen virheen. Me emme kuitenkaan toimi tällä tavalla vaan maustettujen siidereiden "base cider" täytyy olla hyvälaatuinen, jotta tuotteesta saadaan tasapainoinen. Toki jotain puutteita voidaan mausteilla tuotteeseen tuoda, esimerkiksi hedelmäisyyttä ja tanniinisuutta, mutta virheitä maustamisella ei voi peittää.
Mistä ideat maustettuihin siidereihin tulevat?
Lähtökohtaisesti etsimme laadukkaita ja kiinnostavia raaka-aineita, joita voisi kuvitella sopivaksi siiderin mausteeksi. Perinteisesti siiderin mausteina käytetyistä mausteista vähän erikoisempiin mausteisiin. Mausteilla tarkoitamme mitä tahansa syötäväksi kelpaavaa, jolla voi tuoda siiderin uudelle tasolle ja tehdä siitä kiinnostavan.
Lepolan tuotteet syntyvät useilla eri tavoilla
Seuraamme mitä tuotetaan maailmalla
Seuraamme aktiivisesti mitä tuotteita valmistetaan maailmalla, muun muassa Australiassa, Jenkeissä ja Briteissä. Joskus saamme sieltä suoraan jonkin idean, jonka voimme soveltaa sopivaksi Suomesta saataviin raaka-aineisiin ja meidän tuotantoomme. Esimerkkinä tästä voisi olla Honey cyser. Tätä hunajaviinin tyyppiä tuotetaan paljon maailmassa. Halusimme tehdä tästä oman versiomme omien mehiläistemme hunajasta. Ideoimme tästä tuotteen, joka on kupliva ja matalampi alkoholinen. Usein Cyserit ovat vahvempia ja viinimäisempiä. Lepolan Honey Cyser on niin sanottu Session -versio maailmalla myytävästä cyseristä. Cyser muuten tarkoittaa hunajaviiniä, joka on tehty omenamehusta ja hunajasta.
Tutkimme mitä raaka-aineita on saatavilla
Tutkimme jatkuvasti ympäristöämme, ja mitä raaka-aineita voisimme lähialueella kasvavista tai viljeltävistä kasveista käyttää tuotteissamme. Kurkulla maustettu siiderimme Cucumber Apple cider syntyi halusta käyttää jotakin raaka-ainetta ihan naapurista. Lähialueellamme viljellään paljon kurkkua, joten päätimme kokeilla. Ja se toimii! Raikas kurkku ja hedelmäinen omenasiideri luovat virkistävän makuelämyksen, jonka kaikki raaka-aineet ovat tulleet alle 60 kilometrin säteeltä Lepolasta.
Vahingon kautta
Siiderinvalmistus ei aina suju niin kuin on suunniteltu ja joskus tuotteita syntyy vähän vahingossa. Tästä esimerkkinä Hoppy-omenasiideri. Saimme todella myöhään syksyllä soiton omenanviljelijältä, jolla oli erä omenoita, jonka sovitut kaupat olivat menneet pieleen. Ostimme omenat, rakensimme jo talviteloille laitetun mehustusaseman takaisin pystyyn, puristimme omenat ja käytimme mehut siideriksi. Jätimme siiderin kypsymään ja ajattelimme, että mietimme myöhemmin mitä siitä teemme. Ns. Base cider oli tehty ja viimeistely voitaisiin tehdä myöhemmin. Alkukevään aikana emme vieläkään tienneen minkälaisen tuotteen tekisimme. Sitten iski Korona-pandemia ja hyvin suunniteltu kevät sai aivan uuden käänteen. Kaikki ravintolat hiljenivät ja koko kesän pakka laitettiin uusiksi. Meillä oli aikaa paneutua tähän extrasiiderierään ja saimme idean siiderin kuivahumaloinnista, jonka voisi tehdä tuotteelle jälkikäteen. Olimme maistelleet ja tehneet humaloituja siidereitä aikaisemmin ja päätimme tehdä oman version humaloidusta siideristä. Tuote muotoutui ideasta lopulliseksi tuotteeksi vain parissa viikossa!
Oma mieltymys ja yhteistyö
Lepolan Emmi on aina rakastanut kirsikoita, joten kirksikkasiideriä oli pakko kokeilla. Löysimme suomalaisen puutarhan Leivonmäeltä, joka viljelee suomalaisia makeita kirsikoita – Tommolan Puutarhan. Aloitimme yhteistyön heidän kanssaan ja nyt olemme tehneet jo toisen erän kirsikkasiideriä. Yhteistyö muiden pientoimijoiden kanssa on meille erityisen tärkeää!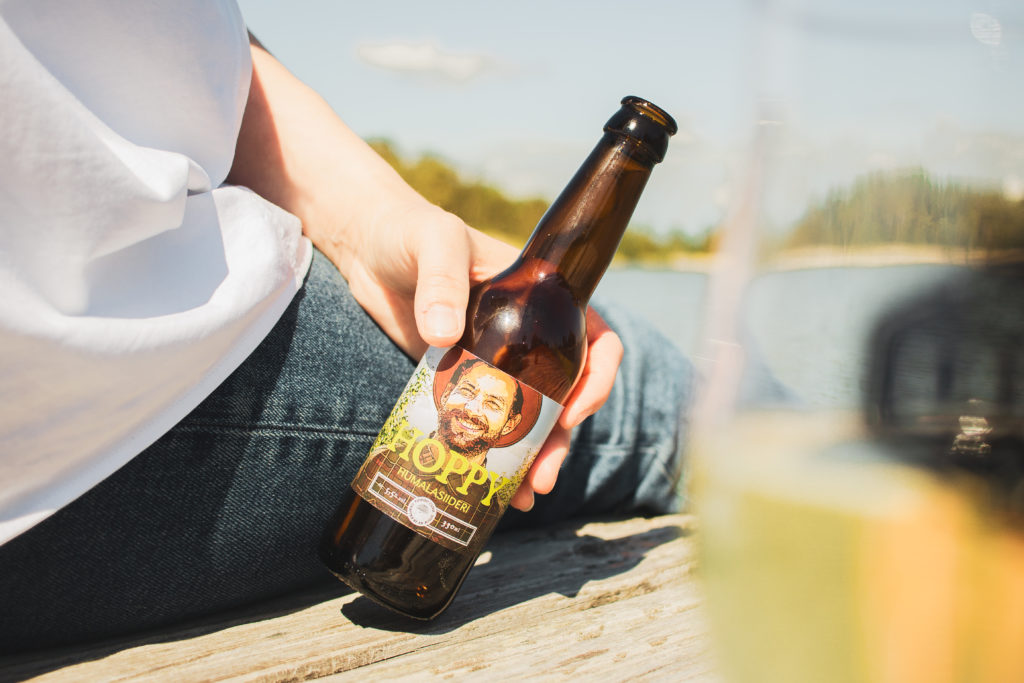 Uudet ideat lopullisiksi tuotteiksi
Kuten kaikkien uusien tuotteiden tekemisessä testaus ja kehitys on tärkeä osa koko prosessia. Tuotekehitys ei aina ole vain erilaisten makuyhdistelmien kokeilua, vaan paljon myös prosessien parantelua ja kehittämistä. Ennen uuden tuotteen valmistuksen aloitusta pitää miettiä koko prosessi, ja se miten saadaan eri raaka-aineet toimimaan tuotannossamme. Täytyy myös mainita, että kaikki testaukset eivät läheskään aina toimi! Kaikki makuyhdistelmät eivät ole aina onnistuneita..
Siiderinteko on paljolti sitä, että löytää sen juuri oikean jutun, josta asiakkaat pitävät! Pyrimme aina tekemään sellaisia tuotteita, joita itsekin haluaisimme nauttia. Haluamme luoda tuotteita, joihin uskomme ja jotka tuovat iloa ja nautintoa muillekin ihmisille!
Cheers,
Emmi & Aaron 
---
» LUE SUOMEKSI
» READ IN ENGLISH
For us in Lepola the flavoured ciders have been the thing from the beginning. We love to test new flavours and develop products using the ingredients from the surrounding nature. The scope of flavoured ciders is almost limitless! Flavour combination can be tested widely from fruits to berries, vegetables to herbs and spices. Testing and innovation is fun and inspiring for us!
Sometimes some people think we make the flavoured cider because the original base cider has been somehow faulty. However for us it's very important that the base cider is very high quality to create a balanced cider. Flavouring can off course improve for example the fruitiness and tannin but, the faults can not be hidden with flavours.
Where do the ideas come from?
In principle we are looking for quality ingredients that would be interesting to flavour the cider with. The spices can be anything from traditional pairings with cider to more unconventional flavours. With flavour we mean anything natural, suitable for food product, that can bring the cider to new level and make it interesting.
A few ways how Lepola products are developed
We follow what happens around the world
We are following actively what products are produced in the other countries, for example Australia, UK and USA. We can get an idea from there to be transferred suitable for ingredients available in Finland and our production. Our Honey Apple cyser can be an example of this. This is type of mead produced widely in the world. We wanted to make our own version of this using the honey of our own bees. We wanted to make this product bubbly and lower alcohol. The cysers are often stronger and more wine-like. Our Honey Cyser is session version of a more traditional stronger cyser. Cyser by the way means honey wine made of apple juice and honey.
We research the ingredients available near us
We are continuously researching our surroundings, what ingredients could be found from nature and farms around us. The idea of our Cucumber Apple cider came when we wanted to use an ingredient farmed at the neighbourhood. In our area the cucumber is farmed in many places so we decided to test it. And it worked! Fresh cucumber and fruity apple cider create refreshing flavour experience, everything in the product produced under 60 kilometres from Lepola!
By accident
Cider making doesn't always go as planned and sometimes the products are born almost by accident. Our Hoppy Apple cider came along like this. Very late in the Autumn one apple grower called us and said they have some apple that the contracted buyer didn't pick up. We bought the apples off them and started the juice pressing station that had already been packed up for the year. Then just juiced the apples, fermented the juice and put the cider to mature and to be worried about later. The base cider was done and we thought we will decide later what to make out of it. In the beginning of the next spring we still didn't know what to do with the cider.  Then the covid pandemic hit Finland, shut everything down and changed all our plans for coming spring and summer. Then we had time to concentrate to this cider that had been left to mature for the time being. We got an idea of dry hopping the product as we had tasted many hopped ciders and tested making them before. Dry-hopping can also be done just before bottling the cider, so it suited perfectly for this product that didn't have a plan. The base cider was matured for months then, dry hopped for two weeks before bottling!
Own preferences and co-operation
Emmi from Lepola has always loved cherries, so cherry cider had to be tested. We found Finnish farmer with sweet cherries – Tommola Garden. We started co-operation with them and now we have made two batches of Cherry Apple cider. Co-operation with other small producers is very important for us!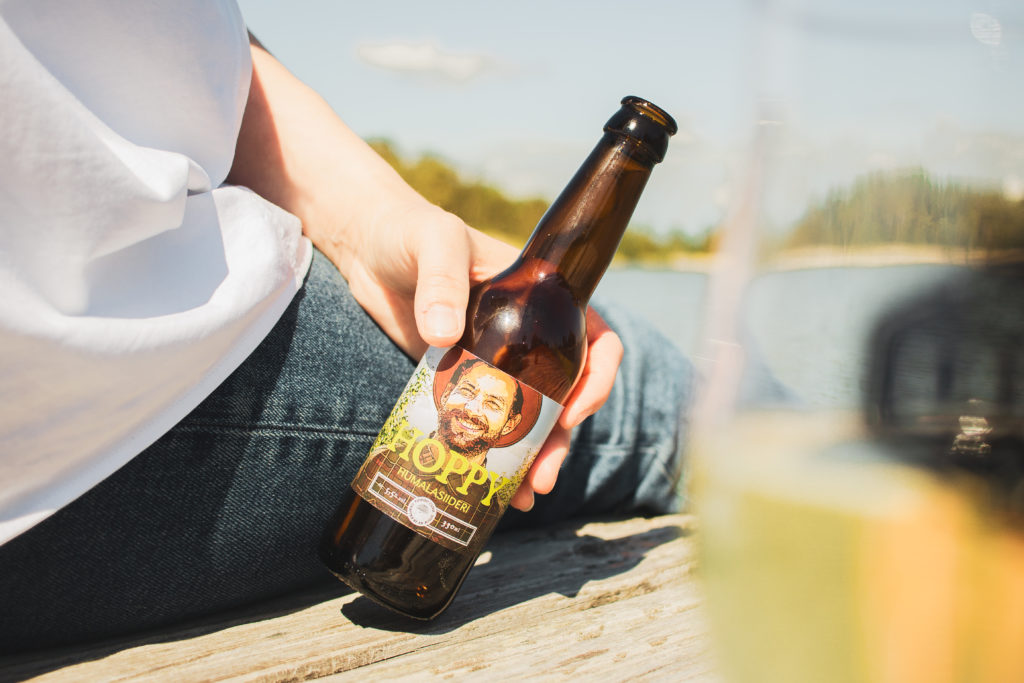 New ideas into final products
Like in all new product development testing and research is important part of the whole process. Product development is not always just testing the new flavour combinations but also a lot of improving and developing the whole process. Before the main production of a new product we have to think through the whole production process, how to make different raw materials work in our facilities. We also have to mention that not all the tests work! All the flavour combinations are not a success..
Cider making is to find just the right thing that people want to drink! We always have the goal in our minds to make products we would like to drink in the restaurant or buy from the grocery store. The products we believe could bring enjoyment to other people too!
Cheers,
Emmi & Aaron